Pet Safety During Storms
7/18/2022 (Permalink)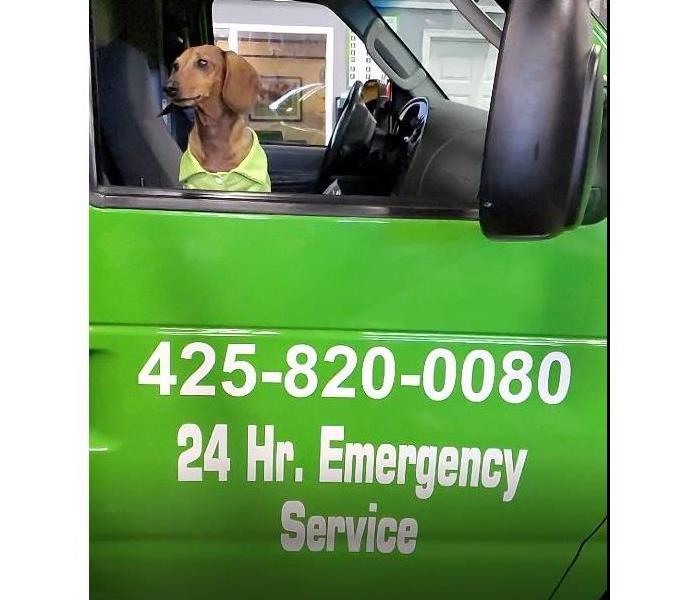 Daisy knows a thing or two about emergencies. SERVPRO of Kirkland is here for your emergency services 24/7, Call 425-820-0080.
We all know what we should do when a storm strikes or is about to strike – have an emergency kit ready, know the safest structure in your home, avoid electrical equipment, etc. Nonetheless, have you thought about what to do with your pets when a storm arises? Thorough emergency preparedness is important, particularly in areas where you may be forced to leave your home. As we all know Washington weather is sporadic and unpredictable.
Here are five tips from ASPCA (American Society for the prevention of Cruelty to Animals) Center that you can use to help keep your beloved pets safe during storms.
Shelter – During severe storms it may be easier to take shelter in a basement or small interior room like a bathroom. Make sure pets are acquainted with – and comfortable in – that area of your house and will go there with you easily if need be.
Poisons – Make sure the shelter inside your home is free of dangers for pets. Many people keep pest poisons in the same basement where they may be sheltering during the storm. Unfortunately, pets are very good at finding baits and many are all too eager to eat it.
Anxiety – Many pets have storm or firework anxiety and may be prescribed medication to help them cope. Remember, it is always in the best interest to give pets a dose of medication prior to the storm to see how he or she will react – and pets should always get trial runs of medication during periods when the veterinarian is available in case questions arise.
Evacuation – Among your belongings and in your emergency kits you should have leashes and/or carriers handy, food, medication and water. Pet owners should know where favorite hiding places are for pets so they can easily found during emergencies.
First Aid – Help keep your pets safe by having a pet first aid kid handy.
SERVPRO of Kirkland is here for all your storm damage need call us at 425-820-0080
5 Pet Safety Tips for Storm Preparedness: https://www.aspcapro.org/resource/shelter-health-poison-control/5-pet-safety-tips-storm-preparedness
Pet First Aid Kit: https://www.aspcapro.org/resource/saving-lives-shelter-health-poison-control/how-make-pet-first-aid-kit